AQHA Horses For Sale







Click here to view the recently sold horses
Our 2016 babies will be arriving soon! Please check backto see what we have.
back to top
---
One Time Opus SOLD
April 17, 2011 Chestnut Colt
Sire: One Time Pepto
Dam: Opus Cat

Youll Be Cee N Me
2008 mare
Sire: Boonsmal Cee Lena
Dam: Me N Peppy
$30,000
Shes A Brilliant Rey SOLD
March 4, 2011 Sorrel Mare
Sire: Dual Rey
Dam: Shes Brilliant

Venture One Time SOLD
May 3, 2011 Bay Roan Colt
Sire: One Time Pepto
Dam: Miss Smoke Travels

Stylish Little Rey SOLD
April 25, 2011 Sorrel Colt
Sire: Stylish Rey
Dam: Little Holly Lena
---

Dancing on Faith
AQHA 2000 Sorrel Mare
Sire: JD Blue John
Dam: Duty Dance
$25,000

Bet Im Smokin SOLD
AQHA 2007 Sorrel Mare
Sire: Bet On Me 498
Dam: Peppys Smokin Oak


Alittle Smoke SOLD
2007 stallion
Sire: Smart Little Lena
Dam: Peppys Smokin Oak
HERDA TESTED N/ N

Excellent Smart Little Lena breeding stallion
---
We do not currently have any broodmares for sale. Please check back.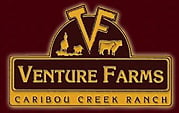 Harland and Jody Radomske
Mailing Address:
2847 N FM 113
Weatherford, TX 76088
----♦----
Office: (509) 968-3530
info@venturefarms.net
Click here for directions